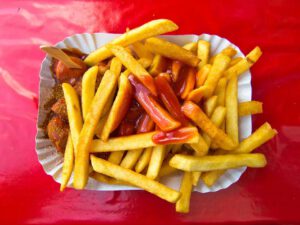 The following are food ingredients that are considered unhealthy. They are known to cause a lot of health issues such as heart disease, and even cancers. These ingredients or should we say chemicals are commonly found in many fast foods and/or junk foods, so next time you are at the grocery store or fast food restaurant, make sure to read nutritional labels before you decide to buy anything.
Artificial Sweeteners:
Artificial sweeteners are any substitute for sugar. Generally, they're even sweeter than sugar and are created to lower your caloric intake.
Although they might seem good for weight loss, which they can be, they can have negative side effects that might not make that weight loss totally worth it.
Sugar alcohols, a type of artificial sweetener, have been shown to increase digestive issues. Also, many people find that artificial sweeteners increase their appetite even more than foods made with natural sugar, since they're getting the same insatiable sweet tooth, but with no calories to fill them up.
Many reported health issues from artificial sweeteners, such as cancer and metabolic syndrome, haven't held up as time has gone on. And a few observable benefits have even been added to the list, such as a decrease in dental decay. But there are many individual cases of issues being reported and artificial sweeteners should still be consumed in moderation or better yet, avoided at all cost.
BHA and BHT:
BHA stands for butylated hydroxyanisole, while BHT stands for butylated hydroxytoluene. Unless, you're a chemist, those words likely won't mean much to you, but they're generally used as preservatives to maintain freshness and prevent food spoilage.
They both have many problems, even reaching beyond the human body to the environment. They've been labeled as a possible carcinogen, and they've been observed to inhibit hormone activity.
Perhaps the greatest known concern of these two is their reproductive effects, affecting both men and women. Furthermore, they're both known to be toxic to marine life and animals, making them something you should stay away from for the good of yourself and for nature.
Sodium Benzoate:
Sodium benzoate is a preservative used to increase shelf life. It is man-made and can be found in many foods such as cinnamon, tomatoes, berries, and other plants and in many foods that have fermented. Studies have shown that sodium benzoate can make you more susceptible to inflammation, oxidative stress, weight gain, ADHD, and allergic reactions. Sodium benzoate should be avoided if possible, although large quantities generally show the worst effects.
Sodium Phosphate:
Sodium phosphate is used to change food texture, keep food from going bad, make dough rise, and balance the pH of foods.
Right now sodium phosphate is recognized as safe to eat, but many think that large amounts of it may be bad for your health due to complications such as headaches and nausea, seizures, bloating, stomach pain, dizziness, and more.
These complications stem from what is called a sodium phosphate overdose. It should also be certainly avoided by anyone with kidney disease, digestive issues, or heart issues as it can exacerbate these issues.
Carrageenan:
Carrageenan is used to alter the texture of food, and to preserve food and drink. It is a product of red seaweed and is found in almond milk, meats, and yogurt.
Some studies have shown that carrageenan can lead to IBS, allergies, colon cancer, bloating, and inflammation. Anyone with arthritis, tendonitis, IBS, or gallbladder inflammation shouldn't consume it, since symptoms can worsen.
Studies on carrageenan are currently limited, so use your best judgement and cut it out of your diet and see if there is a noticeable impact.
Caramel Color:
Caramel color is used in many foods and drinks, most notably in soda. It is currently a potential carcinogen and has warranted a cutoff point of 29 micrograms from the State of California to be considered not a large risk for future cancer development.